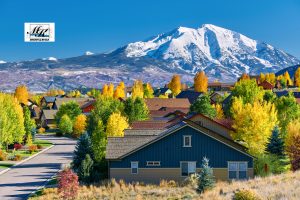 Denver, Colorado's hottest housing market, continues to spike each year. So what are the steps to buying a house in this market?
Buying A House In Colorado
No matter if you are buying your first home or relocating to the state of Colorado, you must learn about all the nuances of the area's real estate. Follow these few steps on your journey toward homeownership. 
Find A Trusted Real Estate Agent
The most important step of the process is finding an experienced real estate agent that you trust. Make sure you talk to many agents to find the right one for your situation. Your agent needs to know the ins and outs of the Colorado market, including laws and practices. 
Budget
Check to see if there are any first-time home buyer programs available, if applicable. You also must understand that Colorado is considered a seller's market right now. This means home sellers will typically have plenty of bids to choose from. 
Purchase Homeowners Insurance 
Due to uncommon weather events, home buyers should be prepared to pay higher homeowners insurance premiums. You will need flood insurance if you live in an at-risk area, as well. 

Steps To Buying A House In Colorado
Use these steps as your guide to buying a home.
Step 1. Save For Down Payment
You may need a minimum down payment of 3-5%, depending on the lender and type of loan. In order to avoid paying private mortgage insurances, most mortgages will need 20% down.
Step 2. Mortgage Approval
Just like a real estate agent, find a mortgage lender you want to work with. The lender will gather your information and decide how much to lend to you. 
Step 3. Decide What You Need In A House
This is the most important step of the home buying process. You need to decide what you need in a house, want in a house and what could be considered a dealbreaker. 
Step 4. Tour Homes
The longest part of the process is typically touring several different properties. Check out many homes and decide what you do and don't like. 
Step 5. Make Offer(s)
Work with your real estate agent to figure out an appropriate offer for your dream home. 
Step 6. Close On The House
The final step is closing on the home! Get the appraisal and home inspection, then complete all the paper work and you are set to move in. 
When To Buy A House In Colorado
Since much of the state is covered in snow and enduring colder temperatures throughout the winter, the prime real estate season in the spring is quite short. The housing market begins to flood from March through May, with the most competition found during these months. 
Does that mean spring is the best time to buy in Colorado? No, the suggestion is to try to wait until the summer months. At this point, homeowners that did not sell their homes during the spring will oftentimes lower their asking prices. You'll want to buy during the summer and be settled in your home before the unpredictable weather strikes in the winter. 
How Much Does It Cost To Build A House In Colorado?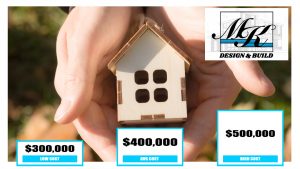 On average, it will cost $400,000 to build a new house in Colorado in 2022. You can expect to pay anywhere in the range of $300,000 to $500,000, according to HomeAdvisor. New homes built in Colorado will cost an average of $400,000. Right now, new homes are being built in the city of Denver between the prices of $275,000-$550,000.
When compared to other large cities in the U.S. like San Jose, San Francisco and Chicago, the cost to build a home in Denver is relatively affordable. New homes in Colorado are comparable to new home prices in North Carolina, Pennsylvania and Virginia.
MK Design And Build In Colorado
MK Design And Build, located in Colorado and Arizona, specializes in residential construction, providing clients with state-of-the-art technology combined with cost-effective building methods. MK offers a variety of styles and designs for you to use as a starting point in your home building journey. With an extensive library of existing plans to choose from, we've organized them into 4 Series to facilitate the shopping experience: Classic, Vintage, Contemporary and Craftsman. Contact MK Design and Build right here!