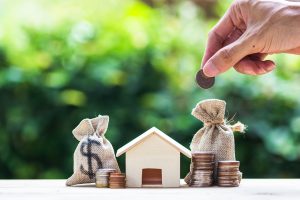 A new home purchase can come with a lot of hidden costs that are easy to overlook. If you are wondering how much money you need to save before buying a house, follow our guide below!
How Much Money Do I Need To Buy A House?
If you are getting a mortgage, save up at least 25% of its sale price in cash. This will cover a down payment, moving fees and closing costs. For example, if you are purchasing a home for $250,000, then you may pay over $60,000 to cover all the different buying expenses. 
25% may seem like a large investment to most. Last year, the typical first-time home buyer made a 7% down payment, with repeat buyers averaging a 17% down payment. There are a few reasons why these down payments are so low nowadays. Student loans, car loans and credit card debt are the top reasons why these payments remain low. The experts urge all potential home buyers to get out of debt before purchasing property.
How Much Money Do I Need For A Down Payment?
Put simply, it's recommended to save as much money as possible for a down payment. Try to save at least 10-20% of the total home price. Saving 20% for a down payment will help you avoid paying private mortgage insurance (PMI). This is a type of insurance that protects your lender from losing money in the event that you cannot make mortgage payments. 
First-time buyers may opt for a 5-10% down payment, which means mortgage payments will be higher and you will have to pay PMI. Any down payment amount below 5% is far too low. There are some government programs (VA, USDA, etc.) set up to help, but this just means you pay extra in interest and fees later on. 
How To Figure Out A Home-Buying Budget
Once you are completely debt-free and have an emergency fund in place, you can figure out how much you can afford to spend on a home. Avoid being "house poor" by making sure your monthly payment isn't more than a fourth of your take-home pay.
The 25% limit includes all principal, interest, homeowners insurance and property taxes. It could also include your PMI and/or homeowners association (HOA) fees, depending on your situation. Let's look at a few other expenses related to the homebuying process below.
Moving Expenses
Most likely, you will need to include moving expenses in your final budget. Because there are multiple ways to handle a move, such as hiring a moving company or renting a truck, costs can vary. Expect to pay anywhere between $900-$2,400 for a local move.
Closing Costs
On average, buyers pay between 3-4% of their home's sale price in closing costs. Closing costs refer to fees for services that help to close on the home officially. These costs usually include a home inspection, appraisal and other loan-related costs like title insurance, homeowners insurance, origination fees and taxes. 
It can be extremely difficult to accurately estimate the total of these costs, but each could could end up costing 1% of your home's total price.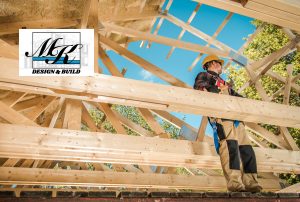 How To Save Money When Buying A House
Follow these five tips below to ensure you get the best possible deal on a new home build. 
Set A Budget
The most important thing to do ahead of the new home build is setting a budget. Spend a lot of time to figure out exactly how much you can afford to spend on this project. It's never a bad idea to meet with a lender or financial advisor prior to purchasing the lot. Make sure your budget is tight but not restrictive – there are always a few bumps in the road that may call for extra cash.
Once your budget has been set, communicate and reiterate this figure to your chosen home builder. At this time, it's wise to refrain from adding on any additional options or amenities. 
Stick To Stock Floorplans
If saving money is one of your top priorities, then choosing a stock floorplan is essential. Even if this a difficult ask for some home builders, it's best to rid yourself of any extra expenses by picking a premade house plan. A customized blueprint will undoubtedly inflate your budget. 
If you have an eye for future designs, most stock plans will work as you begin the process. Another option is to hire a professional who can make adjustments to the stock plan, which will still save money compared to picking a customized layout. 
Find The Best Home Builder
Fortunately, the best and the right home builder may be one in the same. A home builder can either make or break your budget altogether. Your goal in this step is to find an affordable builder with a long history of new home construction projects. 
Do the research to find a builder that can work within your budget and commit to a timeline. Make sure to compare a few home builders prior to choosing a company. 
Only Use Standard Sizes
Even if you end up picking a customized design, make sure you choose to keep all doors and windows in standard sizing. Odd sizes and shapes tend to drive up the cost of any new home build.
You can shop around at construction supply stores to find standard-sized windows and doors yourself. 
Take Care Of Final Touches Yourself
Whenever you hire a contractor, you are free to tell them to leave certain final touches out of the bid. Let the contractor know that you can take care of easier tasks.
These tasks can include landscaping, staining wood trim and even interior painting. Handling these tasks yourself will undoubtedly save you money in the long run. 
MK Design And Build In Arizona
MK Design And Build, located in Mesa, Arizona, specializes in residential construction, providing clients with state-of-the-art technology combined with cost-effective building methods. MK offers a variety of styles and designs for you to use as a starting point in your home building journey. With an extensive library of existing plans to choose from, we've organized them into 4 Series to facilitate the shopping experience: Classic, Vintage, Contemporary and Craftsman. Contact MK Design and Build right here!