MK HAS A WIDE VARIETY OF STYLES TO SUIT WHATEVER YOU'RE LOOKING FOR!
MK offers a variety of styles and designs for you to use as a starting point in your home building journey. With an extensive library of existing plans to choose from, we've organized them into 4 Series to facilitate the shopping experience: Classic, Vintage, Contemporary and Craftsman. Of course, we recommend that you peruse them all because elements from one series can be used in another and vice versa, and the inspiration for your home might just be found in the very next floor plan.
WHY CHOOSE MK DESIGN AND BUILD
Classic Series
Stunning architecture and welcoming interiors are just some of the things you can expect from our Classic Series of homes. A unique collection, this series features classic styling and peace of mind while showcasing Timber Block's revolutionary insulated logs.
View The Series
Craftsman Series
With ties to some of the most recognized American architects, Craftsman house plans appeal to homeowners with an appreciation for fine architecture. Craftsman house plans are a quintessential American design.
View The Series
Evolution Series
The Evolution series is a true blend of Timber Block's best design and most productive engineering process. It offers optimized modern living spaces, intelligent add-on options and stunning looks providing harmony with any lifestyle.
View The Series
Contemporary Series
The contemporary series utilizes the charm and warmth of wood, blended with today's modern residential design. A collection featuring wide open spaces, clean lines accentuate the surrounding landscape and create a unique sense of harmony.
View The Series
Vintage Series
The Vintage Series is a luxurious collection inspired by the cosiness of the coastal spirit and the warmth of an era filled with dreams and glory. A classic architecture allying Timber Block's revolutionary insulated stacked building system with yesterday's charm and timeless designs. Old world, meet the new world.
View The Series
Custom Home Series
With over 80% of MK homes customized by the homeowner, we know that our suggestions with regards to how you finish your home are just that: suggestions. Our team of Architectural Technologists and Designers is ready to collaborate with you. We look forward to bringing to life your dream home.
WHAT YOU GET WITH AN MK HOME!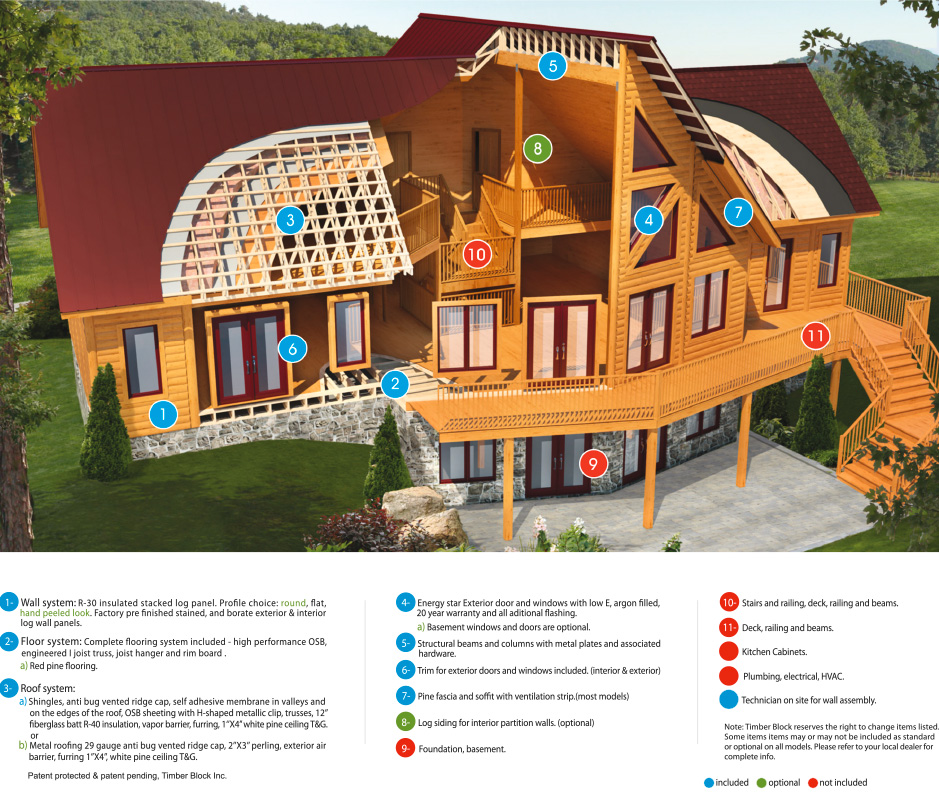 FIND A MODEL HOME NEAR YOU!
View the MK Homes today, and experience what the best in class looks like.