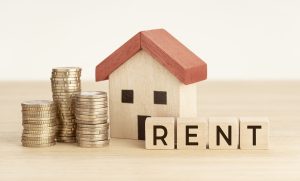 Make these subtle changes to your lifestyle today to begin saving for a house while renting!
Tip 1. Pay Off Credit Card Debt
It's crucial to remember your credit score and debt-to-income ratio are both key factors that lenders consider when qualifying you for a loan. When the time comes to search for real estate and get a mortgage, you will definitely be happy you got rid of any outstanding debt ahead of time. Because of this, you may even be able to score a lower interest rate.
Tip 2. Get A Roommate
This is one of the easiest ways to save some money while renting. By finding a suitable roommate, you can cut your utilities and rent in half overnight. This ends up adding a lot of savings toward your potential down payment. 
Tip 3. Budget
Once you have set a firm financial goal, it's time to implement a budget and stick to it. Try to follow the common 50/30/20 rule, where you allocate portions of your paycheck to the following expenses:
50%: Essential expenses like food and housing.
30%: Lifestyle expenses, such as entertainment.
20%: Miscellaneous priorities like paying off debt and/or loans. 
Tip 4. Cut Back On Unnecessary Expenses
Consider cutting back on expenses that feel unnecessary, especially when you are trying to save money. Try going out to eat less or cutting back on shopping. You can always shave a few dollars off by investing in energy efficient lighting. Small changes will end up being worthwhile once you are turning the key to your new home. 
Tip 5. Save Tax Refunds
Resist the urge to spend your tax refund right away. Instead, stick your refund into your savings account for your future home.
MK Design And Build In Arizona
MK Design And Build, located in Mesa, Arizona, specializes in residential construction, providing clients with state-of-the-art technology combined with cost-effective building methods. MK offers a variety of styles and designs for you to use as a starting point in your home building journey. With an extensive library of existing plans to choose from, we've organized them into 4 Series to facilitate the shopping experience: Classic, Vintage, Contemporary and Craftsman. Contact MK Design and Build right here!