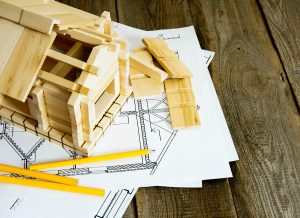 These are the 10 most important stages in the home building process! 
Stage 1. Planning And Permits
Developing plans with an architect and/or licensed designer is always the first step of any new home build.  Once plans have been officially approved, they will then be sealed by a licensed engineer. Local government must approve the plans, specifically dealing with zoning and grading issues, before construction begins. Physical work can only start once the appropriate permits have been required. 
Stage 2. Site Preparation
In most cases, site preparation and work on the foundation will be performed by the same construction crew. The crew, of course, will need to clear land before the construction process begins. The majority of these projects will also call for the land to be leveled. Some areas could need some additional fill to bring the home to the minimum flood level. 
Stage 3. Lay Foundation
Foundations are typically built on slabs, basements or crawl spaces. They will usually consist of poured concrete, featuring steel rods. The contractor will have to spray some sort of waterproofing substance on the concrete once it's poured. City inspectors must check the foundation before any further building. 
Stage 4. Framing
Stage four includes the installation of windows, doors and walls. Flooring and roofing systems will also be put in place, at this time. This stage has been referred to as the "skeleton phase", where the builder also installs a house wrap to protect from outside moisture. 
Stage 5. Plumbing, Electrical And HVAC
After the house wrap is applied, it's time to move on to plumbing and electrical HVAC system installations. Following the installations, an inspector must approve pipes, wiring and all other components. 
Stage 6. Insulation
Insulation helps regulate the home's temperature and ensure energy efficiency. Typically, the insulation material will be either fiberglass, foam or blanket. 
Stage 7. Finish Interior
The builder will then prioritize interior finishes after insulation and drywall are in place. These finishes will likely include window sills, trim, fireplace, mantle and internal doors. Paint will be added to the walls during this stage, as well. 
Stage 8. Exterior Finishes
Next, your builder will tackle walkways and driveways, while also ensuring proper drainage away from the home. 
Stage 9. Home Inspection
A building code official is responsible for the final approval following an extensive inspection. You are free to move in once a certificate of occupancy is obtained. 
Stage 10. Final Walkthrough
In the final stage, the builder will show you everything you need to know about the property. Take your time during this step, as it is likely your last chance to make corrections/alterations. 
How Long Does It Take To Build A House?
On average, it takes seven months to build a new house from scratch in the U.S., according to RamseySolutions. In most cases, though, you should add time for the architect to draw up plans for the home. This process can take up to four months.
Whenever you are considering the idea of building a new home from the ground up, be sure to meticulously plan out a budget and timeline. You now know it takes an average of seven months to complete the construction. Of course, the construction process could be quicker, but factors like inclement weather can cause the project to take longer than expected. After giving the architect at least a few months for the design, be sure to carve out another month in your timeline to wait for project authorization. From purchase to completion, you are looking at a year-long building process. 
MK Design And Build In Colorado
MK Design And Build, located in Colorado and Arizona, specializes in residential construction, providing clients with state-of-the-art technology combined with cost-effective building methods. MK offers a variety of styles and designs for you to use as a starting point in your home building journey. With an extensive library of existing plans to choose from, we've organized them into 4 Series to facilitate the shopping experience: Classic, Vintage, Contemporary and Craftsman. Contact MK Design and Build right here!