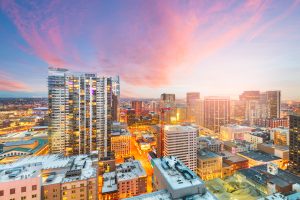 On average, a mid-sized house in Denver, Colorado will cost between $275-$350 per square foot. Smaller homes in the area can be built for just $200 per square, with larger homes costing more than $350 per square foot. Since the start of the year 2020, nearly all housing costs have increased in Denver, but it still remains a very popular city to build a home, according to HomeBuilder. 
New House Cost Factors
There are many factors that go into building a house from scratch. The company you choose for the project is one of the biggest factors affecting the total bill. Make sure you have a budget in place before starting the project. Share the budget with prospective companies as you choose which one works best with your financial status.
These are some of the most important cost factors associated with building a house in Denver:
Materials
As expected, different builders will charge differing amounts for materials used on the site. Costs will be determined by the quality of the materials and the builders' rates. Keep in mind you can always change your requests after moving in. If you installed laminate flooring, but now want bamboo flooring, you can contact a different company to handle any remodels or renovations.
Project Time
Given the unique terrain in Colorado, the amount of time a house build takes can vary. The longer the process takes, the higher the costs will be.
Land
Land values will, of course, either increase or decrease the total price of the project. Other factors will play a role in determining costs, as well. These factors include how close your plot of land is to a sewer line. Does the surrounding vegetation pose any potential issues? Also, what municipal taxes and permit fees can you expect in the area?

Installations
Always consider the costs of systems like electrical, plumbing and HVAC when coming up with your budget. The costs of the systems are determined by the type of system and overall size. Of course, these are just the basic systems you may want included with your new home. You can also opt to install a home security system or even a more comprehensive smart home for security, temperature, lighting and more.
Fixtures And Finishes
Which fixtures and finishes the future homeowner decides to use will undoubtedly impact the bottom line. Here are a few fixtures that are considered premium: quartz countertops, under-cabinet lighting and marble flooring. Thankfully, there are many more affordable items available for purchase today that can be used as substitutes for premium fixtures. 
Design Features
Typical design features include landscaping, outdoor living spaces and pools. Things that are considered additional custom features are vaulted ceilings and fireplaces, among other items. Always check with your builder to see which design features can be included in the new home build.
Other Factors
The design of the home and the way in which it is built will affect total cost. Essentially, the more corners a home has, the more it will cost. Roofing and siding can also drive up the overall price of the home. 
MK Design And Build In Denver Colorado
MK Design And Build, located in Mesa, Arizona, specializes in residential construction, providing clients with state-of-the-art technology combined with cost-effective building methods. MK offers a variety of styles and designs for you to use as a starting point in your home building journey. With an extensive library of existing plans to choose from, we've organized them into 4 Series to facilitate the shopping experience: Classic, Vintage, Contemporary and Craftsman. Contact MK Design and Build right here!