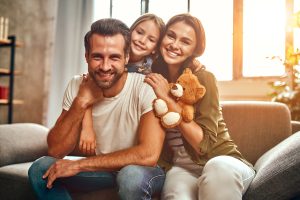 Which places are best for families to settle in the state of Arizona? Let's take a look at 10 of the hottest markets.
Chandler
Chandler is home to a popular historic downtown area and some of the top golf courses in Arizona. With a dense suburban ambience combined with an inviting environment. this city is recognized as a top place to raise a family in the valley of the sun. Chandler's population continues to increase due to its close location to neighboring cities Phoenix, Scottsdale, Mesa and Gilbert. 
Population: 258,875
Median home value: $300,800
Median household income: $82,925
Scottsdale
One of the most desirable places in the state, is also one of the priciest today. The median sold price on a home in Scottsdale has increased over 20% since the year 2020. Yet, it's blend of culture and nature makes it one of the best spots to live in the valley, especially for young families. 
Population: 254,995
Median home value: $724,557
Median household income: $86,097
Paradise Valley
Located just outside of neighboring Scottsdale, this city has become far more than a tourist destination as of late. In fact, Paradise Valley now has a population of more than 15,000. Families here will truly enjoy the incredible location and world-class real estate options. 
Population: 14,632
Median home value: $1,512,200
Median household income: $211,393
Phoenix 
Phoenix is not only the state capital, it is also the most populous city in Arizona. This city features historic neighborhoods surrounded by world-class views. There is no better big city life found in the desert than in Phoenix. This booming job market is great for young parents with careers on the upswing. 
Population: 1,658,000
Median home value: $425,130
Median household income: $67,896

Gilbert
Gilbert is ranked inside a list of the nation's top-15 safest large cities. For all families, this is a great start! Parents looking for a safe, yet growing community will be hard pressed to find a better spot than Gilbert, AZ.
Population: 243,254
Median home value: $328,700
Median household income: $97,287
Flagstaff
The population of Flagstaff continues to grow, rising above 70,000 residents recently. Located in Northern Arizona, prospective homebuyers love the fact that they won't have to deal with any harsh summers, compared to the majority of the desert. 
Population: 73,319
Median home value: $646,561
Median household income: $58,748
Oro Valley
Located in Pima County, Oro Valley is regarded as one of the best places to live in the state. Most families here own their homes and enjoy the sparse suburban vibe. Another benefit for families is how highly rated the schools are in Oro Valley. 
Population: 44,630
Median home value: $311,800
Median household income: $83,341
Tucson
Just a few hours south of Phoenix, Tucson is consistently ranked atop the best places to live in the state. Tucson has a plethora of upscale neighborhoods for affordable rates. This city also has numerous great schools and entertainment options for the younger generations. 
Population: 545,340
Median home value: $318,818
Median household income: $45,227

When To Buy A House In Arizona
One way to ensure the home buying process is as simple as possible is to shop at the right time. Now, of course, this can be a tricky thing to figure out. Arizona, unlike most other housing markets, has varying housing prices and mortgage rates by the month. Housing prices in Arizona were at their lowest level in the month of May during 2021, for example. Homes were listed at an average of $40,000 less during May than any other point this year. November was actually the month with the highest housing prices in the valley of the sun.
Arizona's real estate market is truly unlike any other market in the country due to its harsh summers and mild winters. Most homebuyers do find better deals in the summer because the area is less desirable at that point in the season. While most of the country has lower prices during the winter, the exact opposite is true in Arizona. Currently, Arizona is categorized as a seller's market, meaning you'll likely face a lot of competition when bidding for a new home.
The best time to buy will really depend on both the market and your specific situation as potential homebuyers. The first step towards home ownership is getting preapproved by a licensed lender. Even after you have been preapproved, it's still possible to find lower rates that can pay dividends over the life of the loan. Look around at as many options as possible.
How Much Does It Cost To Build A House In Arizona?
On average, building a house in Arizona costs a total of $412,000. Prices can range all the way from $200,000-$625,000 in 2021, according to HomeAdvisor. Another way to get an accurate price estimate is to figure out square footage of the home. Typically, custom and luxury homes cost $200-$500 per square foot. 
Here is a look at building costs per square foot:
2,000 sq. feet: $200,000-$400,000
2,500 sq. feet: $250,000-$500,000
2,700 sq. feet: $270,000-$540,000
3,000 sq. feet: $300,000-$600,000
4,000 sq. feet: $400,000-$800,000
MK Design And Build In Colorado
MK Design And Build, located in Colorado and Arizona, specializes in residential construction, providing clients with state-of-the-art technology combined with cost-effective building methods. MK offers a variety of styles and designs for you to use as a starting point in your home building journey. With an extensive library of existing plans to choose from, we've organized them into 4 Series to facilitate the shopping experience: Classic, Vintage, Contemporary and Craftsman. Contact MK Design and Build right here!