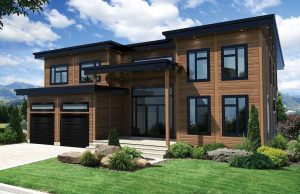 A tract home is a pre-built home. In some cases the home is brand new, while in other cases the home has been lived in previously.
What Are Tract Homes?
A tract home is a type of housing unit attached to other homes by a tract of land. Each unit will feature its own lot, yet it will still be connected via a tract of land constructed specifically for building these tract homes.
The history of tract homes dates back all the way before The Great Depression. But following the economic downturn, demand for cheap housing was on the rise across the country. Tract housing was used to meet this demand, as these homes make good use of space and cut planning costs. All tract homes are typically identical and sold once they have been built.
Pros Of A Tract Home
There are many reasons why new homebuyers frequently choose tract housing. Here are some of the benefits of tract homes:
Low Cost
These are some of the most affordable homes you'll find today. However, that doesn't mean they are less valuable or even smaller. This simply means that the homes were built efficiently and produced in bulk. Materials are bought for several homes, so they come with a lower price tag. The purchased lots are generally very large, meaning it can also be bought for less.
Ideal Neighborhoods
Due to the identical homes, you will always feel equal to your neighbors living in tract housing areas. Typically, tract homes are constructed in safe areas with low crime rates. Prospective homebuyers will often have to pass a background check before being approved for tract homes. This creates a very safe and equal neighborhood.
Pre-Built
At almost any time, you'll be able to purchase one of these homes. They are readily available in several different regions. And while the homes look quite similar, it is possible to choose from multiple styles. You will also be able to close on a tract home very quickly.
Great Locations
Low crime rates and locations are always taken into consideration, so rest assured you will get the best of both worlds when opting for a tract home. Homebuyers should expect their housing development to be close to the city and primary businesses.
Upgrades Allowed
Small upgrades to these housing units are common. There are fewer rules when it comes to the interior of the home, but just make sure to check with the HOA ahead of time.
Tract Home Vs Custom Home
Custom homes are houses specifically designed for you by the architect you hire. It's built to your specs instead of a pre-designed plan with no involvement from the homeowner. A lot of homes are production built, meaning that homebuilder's construct many homes at the same time, in the same neighborhood.
The builder usually has a couple of floor plans and uses them as examples. When a buyer purchases the home prior to it being finished, they might be able to choose a couple of elements. Nevertheless, with custom homes, you'll hire a homebuilder to build a home solely for you, and you care able to hire an architect to design it for you or purchase a floor plan. You are also able to have the home built on your own land, rather than purchase the home and the land together.
If your contractor is building on property that has not been built on previously, you also might be required to have the installation of utilities or have work done on the property to make it prepared for a home. You are also going to have to examine zoning restrictions.
How To Get A Tract Home
Acquiring one of these homes is easier said than done. The best way to find a tract home is by using a realtor. It may be hard to identify a tract home when simply searching online. Typically, you can tell the home is a tract home by location and overhead views. Shop for tract homes right here!
Tract Homes By MK Design And Build
MK Design And Build specializes in residential construction, providing clients with state-of-the-art technology combined with cost-effective building methods. MK offers a variety of styles and designs for you to use as a starting point in your home building journey. With an extensive library of existing plans to choose from, we've organized them into 4 Series to facilitate the shopping experience: Classic, Vintage, Contemporary and Craftsman. Contact MK Design and Build right here!