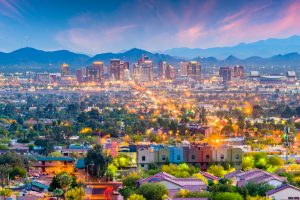 Where is the best place to live in the state of Arizona? Let's look at some of the best cities in the valley, from Phoenix to Cave Creek.
Best Cities To Live In Arizona
Scottsdale is a retiree's paradise while Chandler is a great place to raise a family. The state of Arizona has so much to offer residents at all points in their lives. From breathtaking beauty to fine dining, you can't go wrong choosing to settle in any of the cities listed below.
Phoenix, AZ
Phoenix is not only the state capital, it is also the most populous city in Arizona. This city features historic neighborhoods surrounded by world-class views. There is no better big city life found in the desert than in Phoenix. This booming job market is great for young parents with careers on the upswing. 
Population: 1,658,000
Median home value: $425,130
Median household income: $67,896
Flagstaff, AZ
The population of Flagstaff continues to grow, rising above 70,000 residents recently. Located in Northern Arizona, prospective homebuyers love the fact that they won't have to deal with any harsh summers, compared to the majority of the desert. 
Population: 73,319
Median home value: $646,561
Median household income: $58,748
Show Low, AZ
Known as The Gateway to Arizona's White Mountains, Show Low is famous for world-class fishing and hunting opportunities. This is truly a unique city that seamlessly blends a small town vibe with a big city feel. Many southern Arizonans head to Flagstaff and Show Low for the summers due to the cooler weather.
Population: 11,280
Median home value: $429,736
Median household income: $49,000

Gilbert, AZ
Gilbert is ranked inside a list of the nation's top-15 safest large cities. For all families, this is a great start! Parents looking for a safe, yet growing community will be hard pressed to find a better spot than Gilbert, AZ.
Population: 243,254
Median home value: $328,700
Median household income: $97,287
Scottsdale, AZ
One of the most desirable places in the state, is also one of the priciest today. The median sold price on a home in Scottsdale has increased over 20% since the year 2020. Yet, it's blend of culture and nature makes it one of the best spots to live in the valley, especially for young families. 
Population: 254,995
Median home value: $724,557
Median household income: $86,097
Chandler, AZ
Chandler consistently ranks among the top cities to live in the state of Arizona. While the single population outnumbers the married population currently, Chandler is still a very family-friendly place to live. Residents have access to award-winning school districts and a vibrant downtown area. Despite being one of the state's most populous cities, Chandler's housing market is still more affordable than most of the valley.
Population: 257,076
Median home value: $450,629
Median household income: $85,796
Paradise Valley, AZ
Located just outside of neighboring Scottsdale, this city has become far more than a tourist destination as of late. In fact, Paradise Valley now has a population of more than 15,000. Families here will truly enjoy the incredible location and world-class real estate options. 
Population: 14,632
Median home value: $1,512,200
Median household income: $211,393
Glendale, AZ
More than just residents, pro sports team love calling Glendale home. Currently, this city is home to both the NFL's Arizona Cardinals and NHL's Arizona Coyotes. These stadiums and the surrounding district draw thousands of visitors each year and attract some of the world's biggest events, including the Super Bowl. Glendale residents also enjoy a low cost of living compared to other neighboring cities.
Population: 259,659
Median home value: $413,985
Median household income: $56,991
Tempe, AZ
Known mainly as the home of Arizona State University, the population of Tempe continues to increase these days. In addition to the school, Tempe is becoming more of a family-friendly area with plenty of activities. Tempe is located alongside the Salt River, giving residents the chance to go kayaking or simply enjoy the sunshine. 
Population: 207,982
Median home value: $491,710
Median household income: $61,290
Cave Creek, AZ
This small town comes packed with superior views and historic southwest architecture. Residents here enjoy a close-knit community, complete with great shopping, restaurant and golfing options. 
Population: 5,766
Median home value: $1,044,591
Median household income: $83,787
MK Design And Build In Arizona
MK Design And Build, located in Mesa, Arizona, specializes in residential construction, providing clients with state-of-the-art technology combined with cost-effective building methods. MK offers a variety of styles and designs for you to use as a starting point in your home building journey. With an extensive library of existing plans to choose from, we've organized them into 4 Series to facilitate the shopping experience: Classic, Vintage, Contemporary and Craftsman. Contact MK Design and Build right here!