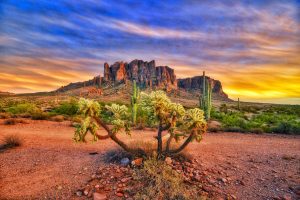 Why do so many people choose to move to Arizona? Let's look at the top 15 reasons why! 
1. Low Cost Of Living
According to BestPlaces, Arizona features not only a strong economy, but some of the most affordable living costs in the country, as well. Whether you are looking to downsize or build your dream home, the chances are high that you will play less in Arizona than most other states. Your financial future is in good hands with Arizona's booming economy and affordable housing.
2. Population Growth
With 1.6 million residents and climbing, Phoenix continues to attract residents for its beautiful landscape and plethora of job opportunities. Phoenix residents enjoy 300 days of sunlight in addition to a unique food culture and light traffic. 
3. Unique Attractions
Yes, there is more than just the Grand Canyon when it comes to attractions in Arizona. Additional picturesque spots include Monument Valley, the Petrified Forest National Park, Horseshoe Bend and Antelope Canyon, among countless others. Enjoy the haunted hotels, old west towns and desert scenery, all close by. 
4. Southwestern Cuisine
All sorts of taste buds will be satisfied by Arizona's world-renown cuisine. Some local favorite dishes include cactus jelly, Sonoran dogs, mesquite honey and prickly pear margaritas. Oh, and some of the country's finest Mexican food is found right here in the valley. 
5. Hooked On Phoenix
Phoenix is currently the 5th-most populous city in the U.S. That also makes Phoenix the largest state capital by population. With four professional sports teams located in the Phoenix area, it's no wonder why so many young people are heading out west. Living in Phoenix also makes day trips to California, Las Vegas and Mexico possibilities.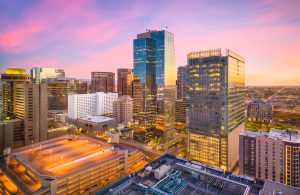 6. The Most Sun In The Country
The NOAA (United States National Oceanic & Atmospheric Administration) shows that Arizona receives more sunny days than any other state in the U.S. And, yes, that includes California and the sunshine state of Florida. According to a study by CurrentResults, Arizona receives 193 clear days per year. New Mexico is second in the country, experiencing 167 days of sun per year. 
7. Fewer Tax Burdens
In addition to the low cost of living, Arizona residents face fewer tax burdens than most other states. The state allows residents to keep as much of their income as possible. Other states will get creative to raise funds, including unwanted higher taxes on gas and alcoholic beverages, for instance.
8. Great Education
Education, of course, is one of the top considerations for any family considering re-locating. Phoenix, specifically, is a place most young families decided to settle. The city is home to over thirty school districts, featuring 325 public schools within city boundaries. 
9. Outdoor Sports
Arizona offers the ideal setting for a plethora of outdoor sporting options. Whether you prefer an exhilarating kayak trip down the Colorado River or a relaxing day on a scenic golf course in Tucson, the valley has it all! Don't forget about snowboarding and skiing in Flagstaff come winter time. 
10. Unbelievable Scenery 
There is no angle one can look in the state that doesn't feature natural beauty. For outdoor enthusiasts, it's harder to find a prettier place to live than Arizona. From the Grand Canyon to the red rocks of Sedona, residents enjoy gorgeous mountain views. Joggers and hikers will love all the scenic paths and hikes across the valley.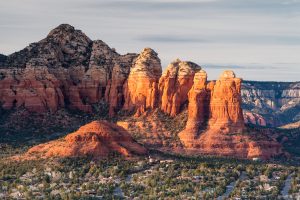 11. Booming Job Market
Arizona trails only Oregon and Utah as the best state for job opportunities. The top employment sectors in the valley are transportation, government, trade and education. Tourism-related job opportunities continue to multiply each year, as well.
12. Light Traffic
If you live Mesa yet work in Scottsdale, have no fear! For the majority of the year driving is very easy in Arizona. Despite the large population, there is a significant difference of driving in Phoenix compared to New York, Los Angeles and Miami. Only during the colder months when tourists pour in does the highway become a bit more congested. 
13. Wine About It
You may know all about Napa Valley, but perhaps you didn't know how good the wine is in the valley of the sun. Arizona has a long and diverse history of winemaking. There are three major winery regions in the state, including Wilcox, Sonoita and Verde Valley. 
14. Shopping Options
Scottsdale is known as one of the best cities to shop in across the entire country. Famous designer brands and one-of-a-kind local accessories line the streets of Old Town Scottsdale. There is a lot more to Arizona than the desert and Grand Canyon, to say the least! 
15. Retirement Paradise
Clean air and no shortage of sunshine help retirees to thrive during their golden years. A lot of Arizona communities, including Youngtown, were developed specifically for retirees! If golf is your top hobby, then Arizona is one of the best places to retire.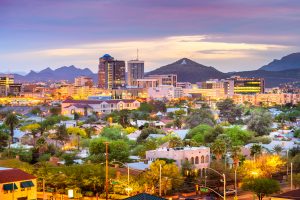 MK Design And Build In Arizona
MK Design And Build, located in Mesa, Arizona, specializes in residential construction, providing clients with state-of-the-art technology combined with cost-effective building methods. MK offers a variety of styles and designs for you to use as a starting point in your home building journey. With an extensive library of existing plans to choose from, we've organized them into 4 Series to facilitate the shopping experience: Classic, Vintage, Contemporary and Craftsman. Contact MK Design and Build right here!