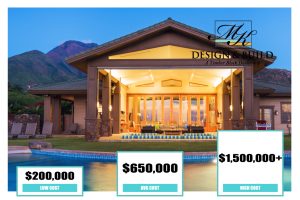 On average, building a house in Arizona costs a total of $650,000. Prices can range all the way from $200,000-$1,500,000+, according to HomeAdvisor. Another way to get an accurate price estimate is to figure out square footage of the home. Typically, custom and luxury homes cost $300-$500 per square foot.
Building Costs Per Square Foot
2,000 sq. feet: $600,000-$1,000,000
2,500 sq. feet: $750,000-$1,250,000
2,700 sq. feet: $810,000-$1,350,000
3,000 sq. feet: $900,000-$1,500,000
4,000 sq. feet: $1,200,000-$2,000,000
5,000 sq. feet: $1,500,000-$2,500,000
How Much Does It Cost To Build a House Yourself?
The average cost to build a house yourself in Arizona is $206,132, according to LandCentury. Here is a look at typical costs associated with building a house yourself:
Hooking Up Utilities: $32,000
Power: $15,000
City Water: $10,000
Well And Septic: $50,000
Foundation: $8,447
Framing: $100,000
Lot Clearing And Grading: $2,695
Electrical, HVAC And Plumbing: $40,000 Each
Interior Finishing: $160,000
Exterior Finishing: $50,000
Cost Of Building A House Vs Buying In Arizona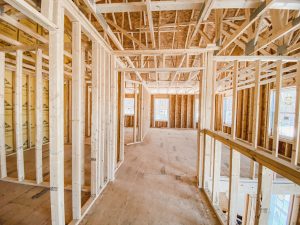 According to Home Advisor, the average cost of buying a house in Arizona is $296,000. Meanwhile, the average cost of building a house in Arizona exceeds $400,000. With building a house, you have to account for material costs and purchasing the land. The biggest benefit, of course, with building a home is you can customize every single feature to your liking. This is a breakdown of costs you can expect when building a home, broken down by percentage of your overall price tag:
Labor: 30%-60%
Materials: 30%-50%
Administrative, Design And Permits: 10%-25%
Labor Cost Of Building A House
These are the typical labor costs of building a house in Arizona:
Construction Manager: $4,000-$43,000
Roofer: $5,000-$10,000
Electrician: $50-$100 per hour
Plumber: $50-$200 per hour
Framer: $10-$20 per square foot
Concrete Contractor: $4,000-$13,000
Drywaller: $1-$3 per square foot
Architect And Structural Engineer: $100-$250 per hour
Landscape Architect: $900-$4,000
Soil Test: $800-$1,800
Land Excavator And Grading: $1,500-$5,000
Land Surveyor: $400-$700
When Is The Best Time To Build A House In Arizona?
One way to ensure the home buying process is as simple as possible is to shop at the right time. Now, of course, this can be a tricky thing to figure out. Arizona, unlike most other housing markets, has varying housing prices and mortgage rates by the month. Housing prices in Arizona were at their lowest level in the month of May during 2021, for example. Homes were listed at an average of $40,000 less during May than any other point this year. November was actually the month with the highest housing prices in the valley of the sun.
Arizona's real estate market is truly unlike any other market in the country due to its harsh summers and mild winters. Most homebuyers do find better deals in the summer because the area is less desirable at that point in the season. While most of the country has lower prices during the winter, the exact opposite is true in Arizona. Currently, Arizona is categorized as a seller's market, meaning you'll likely face a lot of competition when bidding for a new home.
The best time to buy will really depend on both the market and your specific situation as potential homebuyers. The first step towards home ownership is getting preapproved by a licensed lender. Even after you have been preapproved, it's still possible to find lower rates that can pay dividends over the life of the loan. Look around at as many options as possible.
MK Design And Build In Arizona
MK Design And Build, located in Mesa, Arizona, specializes in residential construction, providing clients with state-of-the-art technology combined with cost-effective building methods. MK offers a variety of styles and designs for you to use as a starting point in your home building journey. With an extensive library of existing plans to choose from, we've organized them into 4 Series to facilitate the shopping experience: Classic, Vintage, Contemporary and Craftsman. Contact MK Design and Build right here!