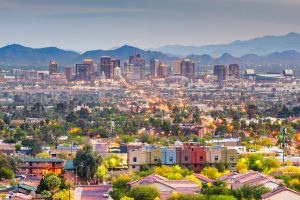 If you are thinking about moving to Arizona, you are not alone! More and more people continue to flock to the valley of the sun. Here is an extensive look at the pros and cons of living in Arizona. 
Pro #1: Low Cost Of Living
According to BestPlaces, Arizona features not only a strong economy, but some of the most affordable living costs in the country, as well. Whether you are looking to downsize or build your dream home, the chances are high that you will play less in Arizona than most other states. Your financial future is in good hands with Arizona's booming economy and affordable housing.
Pro #2: Most Sun In The U.S.
The NOAA (United States National Oceanic & Atmospheric Administration) shows that Arizona receives more sunny days than any other state in the U.S. And, yes, that includes California and the sunshine state of Florida. According to a study by CurrentResults, Arizona receives 193 clear days per year. New Mexico is second in the country, experiencing 167 days of sun per year. 
Pro #3: Population Growth
The city of Phoenix is now the 5th-most populous city in the U.S. With 1.6 million residents and climbing, Phoenix continues to attract residents for its beautiful landscape and plethora of job opportunities. Phoenix residents enjoy 300 days of sunlight in addition to a unique food culture and light traffic. 
Pro #4: Few Tax Burdens
In addition to the low cost of living, Arizona residents face fewer tax burdens than most other states. The state allows residents to keep as much of their income as possible. Other states will get creative to raise funds, including unwanted higher taxes on gas and alcoholic beverages, for instance.
Pro #5: Scenery 
There is no angle one can look in the state that doesn't feature natural beauty. For outdoor enthusiasts, it's harder to find a prettier place to live than Arizona. From the Grand Canyon to the red rocks of Sedona, residents enjoy gorgeous mountain views. Joggers and hikers will love all the scenic paths and hikes across the valley.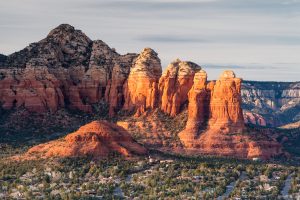 Pro #6: Booming Job Market
Arizona trails only Oregon and Utah as the best state for job opportunities. The top employment sectors in the valley are transportation, government, trade and education. Tourism-related job opportunities continue to multiply each year, as well.
Pro #7: Sports
The valley of the sun is home to some of the country's top golf resorts. Yet, there are so many more sporting options besides golf in Arizona. Four major sports teams call Arizona home, including the Cardinals, Suns, Diamondbacks and Coyotes. The valley also hosts spring training for several MLB teams in the spring months.
Pro #8: Weather
Arizona is called the valley of the sun for a reason. It is the perfect place to live for anyone who suffers from seasonal affective disorder. Enjoy mild falls and springs in Arizona. If you live in southern Arizona, you will only have to drive a few hours if you want to watch the snowfall up north in the winter.
Pro #9: Easy Access To Neighboring States
Residents love just how easy it is to take day or weekend trips when living in the valley. Arizona can be seen as the central point of access between some very desirable locations. Colorado, Texas, New Mexico, Nevada and California are only a highway ride away. 
Pro #10: Retire In Paradise
People of all ages continue to move to the valley, but retirees are flocking by the thousands. Arizona's non-stop sunshine, dry climate, entertainment and dining options make it truly a retiree's paradise.

Con #1: Valley Fever
It may be hard to believe, but valley fever is a real thing. This mostly harmless illness comes from an infection from the fungus in the soil. Valley fever can cause a fever, cough and malaise. 
Con #2: Monsoon Season
All valley residents know about monsoons, but the newly settled may find this alarming. Heavy rain will come in spurts across the valley from June to September. The rains can result in flash floods, intense lightning storms and even dust storms.
Con #3: Summer Heat
For some, the southern Arizona summers can be uncomfortable. Temperatures can routinely hit triple digits during the summer months. The good news is, as mentioned above, higher elevation in the nearby north offers much more tolerable weather. 
Con #4: Not Walkable
Arizona is not a place where you can walk or ride your bike everywhere. Phoenix was actually recently dubbed one of the least walking-friendly cities in the country. Needless to say, a vehicle is a necessity here. 
Con #5: Heavy Traffic
The wintertime brings cooler temperatures, and unfortunately, a lot of tourists. Traffic will become noticeably thicker starting around October. If you can live your life pretty easily without highway access, the traffic won't alter your lifestyle. 
MK Design And Build In Arizona
MK Design And Build, located in Mesa, Arizona, specializes in residential construction, providing clients with state-of-the-art technology combined with cost-effective building methods. MK offers a variety of styles and designs for you to use as a starting point in your home building journey. With an extensive library of existing plans to choose from, we've organized them into 4 Series to facilitate the shopping experience: Classic, Vintage, Contemporary and Craftsman. Contact MK Design and Build right here!