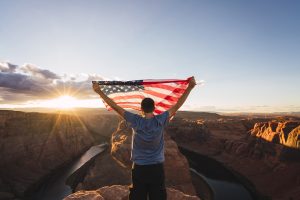 If you are planning to leave the Golden State for the Grand Canyon State, here is everything you need to know about moving from California to Arizona.
Benefits Of Moving To Arizona From California
What are the biggest advantages of moving to Arizona from California? Let's look at a few examples below!
Low Cost Of Living
According to BestPlaces, Arizona features not only a strong economy, but some of the most affordable living costs in the country, as well. Whether you are looking to downsize or build your dream home, the chances are high that you will play less in Arizona than most other states. Your financial future is in good hands with Arizona's booming economy and affordable housing.
Population Growth
With 1.6 million residents and climbing, Phoenix continues to attract residents for its beautiful landscape and plethora of job opportunities. Phoenix residents enjoy 300 days of sunlight in addition to a unique food culture and light traffic.
The Most Sun In The Country
The NOAA (United States National Oceanic & Atmospheric Administration) shows that Arizona receives more sunny days than any other state in the U.S. And, yes, that includes California and the sunshine state of Florida. According to a study by CurrentResults, Arizona receives 193 clear days per year. New Mexico is second in the country, experiencing 167 days of sun per year.
Fewer Tax Burdens
In addition to the low cost of living, Arizona residents face fewer tax burdens than most other states. The state allows residents to keep as much of their income as possible. Other states will get creative to raise funds, including unwanted higher taxes on gas and alcoholic beverages, for instance.
Great Education
Education, of course, is one of the top considerations for any family considering re-locating. Phoenix, specifically, is a place most young families decided to settle. The city is home to over thirty school districts, featuring 325 public schools within city boundaries.
Outdoor Sports
Arizona offers the ideal setting for a plethora of outdoor sporting options. Whether you prefer an exhilarating kayak trip down the Colorado River or a relaxing day on a scenic golf course in Tucson, the valley has it all! Don't forget about snowboarding and skiing in Flagstaff come winter time.
Booming Job Market
Arizona trails only Oregon and Utah as the best state for job opportunities. The top employment sectors in the valley are transportation, government, trade and education. Tourism-related job opportunities continue to multiply each year, as well.
Light Traffic
If you live Mesa yet work in Scottsdale, have no fear! For the majority of the year driving is very easy in Arizona. Despite the large population, there is a significant difference of driving in Phoenix compared to New York, Los Angeles and Miami. Only during the colder months when tourists pour in does the highway become a bit more congested.
Shopping Options
Scottsdale is known as one of the best cities to shop in across the entire country. Famous designer brands and one-of-a-kind local accessories line the streets of Old Town Scottsdale. There is a lot more to Arizona than the desert and Grand Canyon, to say the least!
Retirement Paradise
Clean air and no shortage of sunshine help retirees to thrive during their golden years. A lot of Arizona communities, including Youngtown, were developed specifically for retirees! If golf is your top hobby, then Arizona is one of the best places to retire.
Unbelievable Scenery
There is no angle one can look in the state that doesn't feature natural beauty. For outdoor enthusiasts, it's harder to find a prettier place to live than Arizona. From the Grand Canyon to the red rocks of Sedona, residents enjoy gorgeous mountain views. Joggers and hikers will love all the scenic paths and hikes across the valley.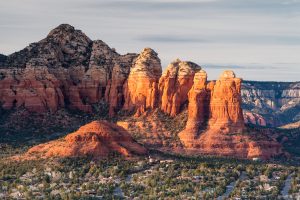 Where To Move To In Arizona
Scottsdale is a retiree's paradise while Chandler is a great place to raise a family. The state of Arizona has so much to offer residents at all points in their lives. From breathtaking beauty to fine dining, you can't go wrong choosing to settle in any of the cities listed below.
Flagstaff
The population of Flagstaff continues to grow, rising above 70,000 residents recently. Located in Northern Arizona, prospective homebuyers love the fact that they won't have to deal with any harsh summers, compared to the majority of the desert.
Population: 73,319
Median home value: $646,561
Median household income: $58,748
Show Low
Known as The Gateway to Arizona's White Mountains, Show Low is famous for world-class fishing and hunting opportunities. This is truly a unique city that seamlessly blends a small town vibe with a big city feel. Many southern Arizonans head to Flagstaff and Show Low for the summers due to the cooler weather.
Population: 11,280
Median home value: $429,736
Median household income: $49,000
Gilbert
Gilbert is ranked inside a list of the nation's top-15 safest large cities. For all families, this is a great start! Parents looking for a safe, yet growing community will be hard pressed to find a better spot than Gilbert, AZ.
Population: 243,254
Median home value: $328,700
Median household income: $97,287
Scottsdale
One of the most desirable places in the state, is also one of the priciest today. The median sold price on a home in Scottsdale has increased over 20% since the year 2020. Yet, it's blend of culture and nature makes it one of the best spots to live in the valley, especially for young families.
Population: 254,995
Median home value: $724,557
Median household income: $86,097
Chandler
Chandler consistently ranks among the top cities to live in the state of Arizona. While the single population outnumbers the married population currently, Chandler is still a very family-friendly place to live. Residents have access to award-winning school districts and a vibrant downtown area. Despite being one of the state's most populous cities, Chandler's housing market is still more affordable than most of the valley.
Population: 257,076
Median home value: $450,629
Median household income: $85,796
Paradise Valley
Located just outside of neighboring Scottsdale, this city has become far more than a tourist destination as of late. In fact, Paradise Valley now has a population of more than 15,000. Families here will truly enjoy the incredible location and world-class real estate options.
Population: 14,632
Median home value: $1,512,200
Median household income: $211,393
Phoenix
Phoenix is not only the state capital, it is also the most populous city in Arizona. This city features historic neighborhoods surrounded by world-class views. There is no better big city life found in the desert than in Phoenix. This booming job market is great for young parents with careers on the upswing.
Population: 1,658,000
Median home value: $425,130
Median household income: $67,896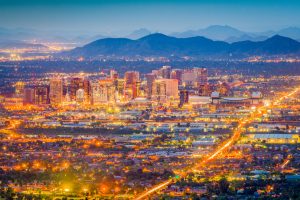 MK Design And Build In Arizona
MK Design And Build, located in Mesa, Arizona, specializes in residential construction, providing clients with state-of-the-art technology combined with cost-effective building methods. MK offers a variety of styles and designs for you to use as a starting point in your home building journey. With an extensive library of existing plans to choose from, we've organized them into 4 Series to facilitate the shopping experience: Classic, Vintage, Contemporary and Craftsman. Contact MK Design and Build right here!