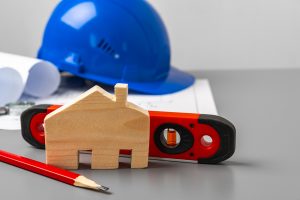 If you are searching for the "cheapest way to build a house", use these tips to save as much money as possible!
What Is The Cheapest Way To Build A House?
These six tips could help you save money during the home-building process: 
Create A Strict Budget
Simple Home Design
Hire Experienced Home Builders
Choose The Right Building Materials
Make The Home Energy Efficient
Build Off The Grid
Create A Strict Budget
Budgeting is the first step towards saving money. Take the time to budget, price out all items and plan for any hiccups along the way. You may not be able to get an exact budget right away, but by laying the groundwork, you'll know where you can afford to spend and where you can save during this process. 
Simple Home Design
Don't think outside the box; think inside the box. The cheapest way to design a home is by designing a simple box. Sticking to a square or rectangle will make the design and construction much cheaper. Don't forget about the roof, as the simpler the roof design, the cheaper this part of the home will be overall. 
Hire Experienced Home Builders
If you decide to work with a home builder, choose an experienced company. While an experienced builder may cost more up front, you can expect to make up the savings during the building process. Experienced builders will be able to tell you where and when to spend and save on building. There is also a good chance a builder with 10-plus years of experience has navigated through just about every home-building request and specification. 
Choose The Right Building Materials
A great option for individuals looking to lessen the financial burden of a new home build is to utilize some unconventional building materials. Tiny homes are becoming more and more popular. These homes are built with reclaimed storage containers. There is a lot more room for innovation in the home-building industry, so feel free to ask your contractor about alternative materials. This could save you money on the construction and in the long run. 
Make The Home Energy Efficient
Save hundreds of dollars on monthly bills by building your home with energy-efficient features. From installing better insulation to utilizing solar or wind energy, there are so many ways to make your new home more efficient. Make the initial financial investment and it will undoubtedly pay off in the future. 
Build Off The Grid
Sustainable living has become a huge trend across the country, recently. Off the grid housing, otherwise known as self-sufficient homes, rely on natural resources. These resources include wind or solar-powered generators, with some homeowners also choosing to harvest their own home grown foods. 
How Much Does It Cost To Build A House?
Buying a new home right now costs an average of $296,000, while building a home will cost $300,000, according to Realtor. Remember, building a home will cost an average of $150 per square foot plus the purchase of the land. Buying a new home will cost less, but building one will give you the freedom to customize each and every feature of the home.

Building A House Vs Buying
Being able to customize every feature in your home's interior and exterior is the number one reason why many choose to build a home from scratch. Getting exactly what you want is something easier obtained when building rather than buying. In the buying process, you could end up shopping for months without finding a home that meets your every need.
Better energy efficiency is another benefit of building a home. You can build the home that meets new energy codes and standards for ventilation, heating and cooling. Building an energy-efficient home will certainly save you money in the long run.
The two biggest benefits of buying a house are pretty obvious. One is the convenience factor. After getting pre-approved by a lender, you can simply shop around, choose a home and make an offer as soon as you'd like. A real estate agent can help you expedite the home buying process by finding properties that meet your needs, plus assisting with negotiations and paperwork. If all goes according to plan, you may be able to close on the home and move in a month or so later.
In most cases the cost is less when buying a home instead of building one. When you have found a prospective home, use a mortgage calculator to estimate total costs. Prices for most existing homes are still more affordable than choosing to build a house from scratch.
MK Design And Build In Arizona
MK Design And Build, located in Mesa, Arizona, specializes in residential construction, providing clients with state-of-the-art technology combined with cost-effective building methods. MK offers a variety of styles and designs for you to use as a starting point in your home building journey. With an extensive library of existing plans to choose from, we've organized them into 4 Series to facilitate the shopping experience: Classic, Vintage, Contemporary and Craftsman. Contact MK Design and Build right here!