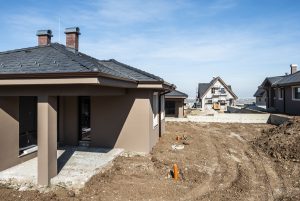 Buying land and building a home from scratch is a very intriguing alternative to buying an existing home. However, potential homebuyers should use this guideline for the long but rewarding process.
Steps To Building A House
The first step of the process is the easiest: purchase the land. Follow these next few steps along the road to home ownership.
Purchase Land
Zoning And Condition Checks
Check For Utility Hookups
Demolish Any Existing Structures
Create A Project Timeline
Purchase Land
Websites like Realtor and Zillow are where many potential homebuyers look online to find land for sale. Any potential buyer should research the land and overall area as much as possible. Check to see if the land had ever been used for commercial purposes or even foreclosed on. Of course, the next thing to figure out is how much the land will cost. Pricing of the land will depend on a few factors, including location, size and if any existing structures currently stand on the property.
Zoning And Condition Checks
A common mistake is made by buyers who purchase a plot of land prior to checking into any costs associated with zoning changes. Check into this ahead of time, and also test for soil composites, at the same time. Know all the local rules about building projects that are in place to protect against any potential hazards. A complete check of zoning issues, soil quality and area-specific building codes is essential for any buyer.
Check For Utility Hookups
Vacant or undeveloped properties can require some additional work to be done in order to reach utilities. This includes any electric, plumbing or gas systems. If any of these systems needs updating, you will have to figure the extra charges into your budget. These additions or changes can come with a hefty price tag, of course. Something such as a sewer hookup could mean construction on the street is needed. If this is the case, you will more than likely have to acquire some additional permits for the project.
Demolish Any Existing Structures
There are two options for any demolitions that may need to take place before the building process begins. One is a mechanical demolition, which is much quicker, yet more costly. Another option is demolition by hand. This is much cheaper and slower, at the same time. You may hire a separate contractor or ask your home-building team to take care of the demolition.
Create A Project Timeline
It is possible to have the land purchased and home built in just six months, if there are no hiccups along the way. Yet, in most cases, the entire process could take several years to complete. Purchasing the land with cash will be quick, but securing a loan for the purchase could take a month or so. Once ground is broken on the property, homebuyers should expect to wait several months for a completed project.
How Much Does It Cost To Build A Home?
Buying a new home right now costs an average of $296,000, while building a home will cost $300,000, according to Realtor. Remember, building a home will cost an average of $150 per square foot plus the purchase of the land. Buying a new home will cost less, but building one will give you the freedom to customize each and every feature of the home.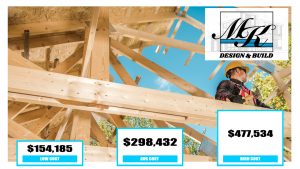 Size of the home is the biggest factor influencing cost of new-home construction. The number of stories a home has means more construction and higher building costs. Design features, such as pools, balconies and decks, can increase construction totals. These features, though, will increase the value of your home over time. Shape of the home is another factor that most homebuyers don't think about as an added cost. But, unusual shapes or custom designs in the exterior and interior can add on to the construction costs.
MK Design And Build In Arizona
MK Design And Build, located in Mesa, Arizona, specializes in residential construction, providing clients with state-of-the-art technology combined with cost-effective building methods. MK offers a variety of styles and designs for you to use as a starting point in your home building journey. With an extensive library of existing plans to choose from, we've organized them into 4 Series to facilitate the shopping experience: Classic, Vintage, Contemporary and Craftsman. Contact MK Design and Build right here!