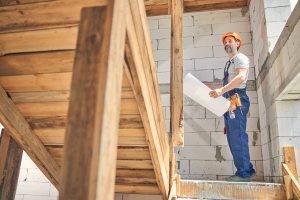 If you are searching for "new home builders near me" or "affordable home builders near me", look no further than MK Design And Build!
MK Design And Build In Arizona
If you are looking for unmatched residential construction in Arizona, MK's team of professionals is here to help! We provide prospective homebuyers with the flexibility they deserve. Our new home builds are state-of-the-art and cost effective. Did we mention our homes are environmentally-friendly, as well? Choose from our plethora of stock or custom designs to start building your dream home today. We specialize in maximizing your interior and exterior needs; giving you the best of both worlds when it comes to design and comfort.  Take a look at our latest home design offerings right here:
New Home Features
So what can you expect when hiring the MK team for your new home build? In addition to customized designs and green-friendly features, our homes can be built anywhere you desire. By using R-30/R-36 wall insulation, this will far exceed today's building codes, ensuring a safe environment for your family. Our unique panelized construction system will speed up the home building process. Our finishes can come with protection of up to a 15-year warranty!
How Much Does It Cost To Build A House In Arizona?
The average cost to build a house yourself in Arizona is $206,132, according to LandCentury. Here is a look at typical costs associated with building a house yourself:
Hooking Up Utilities: $32,000
Power: $15,000
City Water: $10,000
Well And Septic: $7,000
Foundation: $8,447
Framing: $3,000
Lot Clearing And Grading: $2,695
Electrical, HVAC And Plumbing: $40,000
Interior Finishing: $80,000
Exterior Finishing: $50,000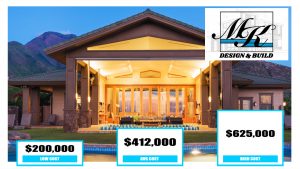 According to Home Advisor, the average cost of buying a house in Arizona is $296,000. Meanwhile, the average cost of building a house in Arizona exceeds $400,000. With building a house, you have to account for material costs and purchasing the land. The biggest benefit, of course, with building a home is you can customize every single feature to your liking. This is a breakdown of costs you can expect when building a home, broken down by percentage of your overall price tag:
Labor: 30%-60%
Materials: 30%-50%
Administrative, Design And Permits: 10%-25%
Labor Costs Of Building A House
These are the typical labor costs of building a house in Arizona:
Construction Manager: $4,000-$43,000
Roofer: $5,000-$10,000
Electrician: $50-$100 per hour
Plumber: $50-$200 per hour
Framer: $10-$20 per square foot
Concrete Contractor: $4,000-$13,000
Drywaller: $1-$3 per square foot
Architect And Structural Engineer: $100-$250 per hour
Landscape Architect: $900-$4,000
Soil Test: $800-$1,800
Land Excavator And Grading: $1,500-$5,000
Land Surveyor: $400-$700
Advantages Of Building A House
Being able to customize every feature in your home's interior and exterior is the number one reason why many choose to build a home from scratch. Getting exactly what you want is something easier obtained when building rather than buying. In the buying process, you could end up shopping for months without finding a home that meets your every need. Better energy efficiency is another benefit of building a home. You can build the home that meets new energy codes and standards for ventilation, heating and cooling. Building an energy-efficient home will certainly save you money in the long run.

Home Building FAQs
Below are a few of the most commonly asked questions regarding new home building projects:
1. How Much Does It Cost To Build A House? On average, it will cost $297,139 to build a house in the U.S. in 2021. Prices will range from $153,570-$477,534, according to HomeAdvisor.
2. Is It Cheaper To Build Or Buy A House? It will cost more to build a house than buy a house. In some cases, it can cost up to $150,000 more to build rather than buy a home.
3. Is Buying A House Worth It? Yes, if customization is your main priority, then building a home is definitely a great investment. Buying an existing home can lead to long and expensive remodeling projects if you wish to change or add any features to the home.
4. What Is The Most Expensive Part Of Building A House? In most cases, the most expensive part of the home build is actually finishing up the interior.
5. What Factors Will Affect The Total Cost? The four main factors that can influence the overall cost the most are materials needed, project time, operational efficiency, and location.
MK Design And Build In Arizona
MK Design And Build, located in Mesa, Arizona, specializes in residential construction, providing clients with state-of-the-art technology combined with cost-effective building methods. MK offers a variety of styles and designs for you to use as a starting point in your home building journey. With an extensive library of existing plans to choose from, we've organized them into 4 Series to facilitate the shopping experience: Classic, Vintage, Contemporary and Craftsman. Contact MK Design and Build right here!