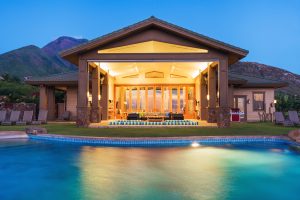 On average, building a house in Arizona costs a total of $412,000. Prices can range all the way from $200,000-$625,000 in 2021, according to HomeAdvisor. Another way to get an accurate price estimate is to figure out square footage of the home. Typically, custom and luxury homes cost $200-$500 per square foot.
Building Costs Per Square Foot
2,000 sq. feet: $200,000-$400,000
2,500 sq. feet: $250,000-$500,000
2,700 sq. feet: $270,000-$540,000
3,000 sq. feet: $300,000-$600,000
4,000 sq. feet: $400,000-$800,000
5,000 sq. feet: $500,000-$1,000,000
How Much Does It Cost To Build a House Yourself?
The average cost to build a house yourself in Arizona is $206,132, according to LandCentury. Here is a look at typical costs associated with building a house yourself:
Hooking Up Utilities: $32,000
Power: $15,000
City Water: $10,000
Well And Septic: $7,000
Foundation: $8,447
Framing: $3,000
Lot Clearing And Grading: $2,695
Electrical, HVAC And Plumbing: $40,000
Interior Finishing: $80,000
Exterior Finishing: $50,000
Cost Of Building A House Vs Buying In Arizona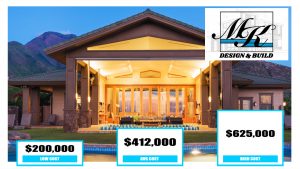 According to Home Advisor, the average cost of buying a house in Arizona is $296,000. Meanwhile, the average cost of building a house in Arizona exceeds $400,000. With building a house, you have to account for material costs and purchasing the land. The biggest benefit, of course, with building a home is you can customize every single feature to your liking. This is a breakdown of costs you can expect when building a home, broken down by percentage of your overall price tag:
Labor: 30%-60%
Materials: 30%-50%
Administrative, Design And Permits: 10%-25%
Labor Cost Of Building A House
These are the typical labor costs of building a house in Arizona:
Construction Manager: $4,000-$43,000
Roofer: $5,000-$10,000
Electrician: $50-$100 per hour
Plumber: $50-$200 per hour
Framer: $10-$20 per square foot
Concrete Contractor: $4,000-$13,000
Drywaller: $1-$3 per square foot
Architect And Structural Engineer: $100-$250 per hour
Landscape Architect: $900-$4,000
Soil Test: $800-$1,800
Land Excavator And Grading: $1,500-$5,000
Land Surveyor: $400-$700
MK Design And Build In Arizona
MK Design And Build, located in Mesa, Arizona, specializes in residential construction, providing clients with state-of-the-art technology combined with cost-effective building methods. MK offers a variety of styles and designs for you to use as a starting point in your home building journey. With an extensive library of existing plans to choose from, we've organized them into 4 Series to facilitate the shopping experience: Classic, Vintage, Contemporary and Craftsman. Contact MK Design and Build right here!