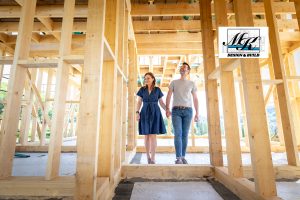 It's recommended that all prospective homebuyers prepare a questionnaire to find the home builder that best suits their needs.
Home Building Questions
Buying new construction is much different than purchasing an existing home. Depending on your builder of choice, what is and isn't included in the contract can vary. That's why it's crucial to come prepared with questions about the process. Make sure these questions are included:
1. How Long Will It Take To Build The House?
Before diving into this long project, you must figure out a clear timeline of events. You'll want to know exactly how the building process will play out and when you can expect results. Having a clear timeline in place is especially beneficial for those currently selling their home or living out a lease. Be aware that all new home builds can encounter bumps in the road, but builders will be able to provide you with an estimated timetable. Typically, obtaining permits ahead of time can take up to 45 days.
2. Which Warranties Come With The Home?
Even with a brand new home, problems can still arise. Fortunately, most new homes will come with a few warranties to help protect the homebuyers from any mishaps. Ask about warranties and how long they will last before the building process begins. Purchasing your own home warranty always remains an option, as well.
3. Can I Provide Floorplans?
Some home builders may only use existing floorplans. Therefore, you will not have the chance to submit your own ideas for the home. If putting your own vision into place is a priority, there is no need to settle. Call around and find a company that will meet your requests.
4. What Is The Home Inspection Process?
While the goal of each and every home inspection is the same, the pattern and length of the process can vary. Ask about the inspection process on day one, so there will be no surprises later on. Make sure there is a clear schedule from beginning of construction to the final walk-through.
5. Will The Home Be Energy Efficient?
If energy efficiency ranks high on your list of home priorities, ask about the possibility of energy-efficient features during construction. Key areas of concern here include HVAC systems, doors, windows and insulation.
6. Are There Homeowner Regulations?
The builder can set rules and regulations regarding what's allowed on the property, even if there is no homeowner's association for the development. Save time and frustration by clearing this up before jumping into the construction process.
7. Can I Figure Out The Total Cost?
Figure out the total cost and when you'll know the total cost, if possible. Find out whether or not there is a cost escalation clause in your contract. This particular clause will allow the builder to charge individuals for any unanticipated costs involving labor and/or materials.

Questions To Ask A Home Builder
In addition to asking how much the build will cost and how long it will take, there are many other questions to ask a home builder. Take a look at these examples:
8. How Long Have You Been Building Houses?
The foundation of the long process is trust. Trusting the building company you are working with is invaluable. Call multiple builders and get quotes before deciding to sign with a company. Asking how long the company has been building homes is a perfectly normal question.
9. Can I View A Model Home Beforehand?
After you get an answer regarding industry experience, don't be afraid to ask if you can view a model home. This will give you a visual of the company's work. If a model home is not an option, ask the builder if you can view an ongoing project instead.
10. Is The Lot Included In The Total Price?
Every construction plan will come with a base cost. This includes the structure cost, as well as totals for interior and exterior features. The cost of the lot is one thing that tends to be excluded from some estimates, though. Always make sure you know all the charges included in your quote.

Frequently Asked Questions
From pricing to architecture, these are some of the most frequently asked questions about the home building process:
11. How Much Does It Cost To Build A House?
On average, it will cost $297,139 to build a house in the U.S. in 2021. Prices will range from $153,570-$477,534, according to HomeAdvisor.
12. Is It Cheaper To Build Or Buy A House?
It will cost more to build a house than buy a house. In some cases, it can cost up to $150,000 more to build rather than buy a home.
13. Is Buying A House Worth It?
Yes, if customization is your main priority, then building a home is definitely a great investment. Buying an existing home can lead to long and expensive remodeling projects if you wish to change or add any features to the home.
14. What Is The Most Expensive Part Of Building A House?
In most cases, the most expensive part of the home build is actually finishing up the interior.
15. What Factors Will Affect The Total Cost?
The four main factors that can influence the overall cost the most are materials needed, project time, operational efficiency, and location.
MK Design And Build In Arizona
MK Design And Build, located in Mesa, Arizona, specializes in residential construction, providing clients with state-of-the-art technology combined with cost-effective building methods. MK offers a variety of styles and designs for you to use as a starting point in your home building journey. With an extensive library of existing plans to choose from, we've organized them into 4 Series to facilitate the shopping experience: Classic, Vintage, Contemporary and Craftsman. Contact MK Design and Build right here!