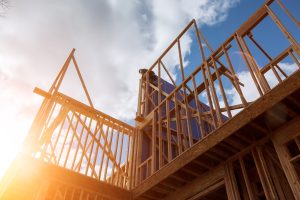 One of the biggest real estate challenges that comes with building a new house is figuring out how much land you need for the construction. The answer will depend on a variety of factors, including local zoning requirements, size of the family and purpose of the home. When all these factors are considered, you can get a clear idea of how much land you will need.
How Much Land Is Required For A New Home Build?
Let's start with an acre as the figure for the size of your land. If you want your dream home to be far removed from any neighbors, an acre of land simply won't work for you. An acre is essentially equal to the size of a football field, so if you have a large family and plans of a nice front and backyard, you will certainly need more land for the home build. 
Land To Building Ratio
This is defined as the percentage or ratio of the building size to the size of the land it is being built on. To determine this ratio, you can divide square footage of calculating land with that of its resistance building. For example, an acre consists of 43,560 square feet. If you plan on building a home that is 15,000 square feet, then the land-to-building ratio is 2.9:1. Keep in mind the average ratio across the United States is 2.5:1 to 3.5:1. 
Buying Land
Of course, there aren't many rules set in stone for how much land you need to purchase when building a home. How much land you'll need is simply determined by how big you want your new home to be. For example, the median lot size of a single-family detached home was 8,562 square feet in the year 2016, according to Remax. This measures out to just about one-fifth of an acre. When working with a home building company, make sure you clearly lay out how much space you desire for yards, garage(s) and fencing. Always leave enough space for the home's utility grid, as well.
Websites like Realtor and Zillow are where many potential homebuyers look online to find land for sale. Any potential buyer should research the land and overall area as much as possible. Check to see if the land had ever been used for commercial purposes or even foreclosed on. Of course, the next thing to figure out is how much the land will cost. Pricing of the land will depend on a few factors, including location, size and if any existing structures currently stand on the property.
What Are The Local Zoning Regulations?
It is necessary to check local zoning regulations when purchasing land and working with a new home builder. Many cities may require more than one acre be purchased for new home construction projects.
MK Design And Build In Arizona
MK Design And Build, located in Mesa, Arizona, specializes in residential construction, providing clients with state-of-the-art technology combined with cost-effective building methods. MK offers a variety of styles and designs for you to use as a starting point in your home building journey. With an extensive library of existing plans to choose from, we've organized them into 4 Series to facilitate the shopping experience: Classic, Vintage, Contemporary and Craftsman. Contact MK Design and Build right here!